The Network's 7th Annual Conference
'Embedding Skills for Life in the Workplace'
3rd & 4th February 2005, Chelsea Village, London
Nearly 200 delegates attended The Network (then the Workplace Basic Skills Network) Conference at the beginning of February at the Chelsea Village Conference Centre, London. Eddie Little, Director of Operation for the Network opened the conference and introduced the theme, 'Embedding Skills for Life in the Workplace' to the assembly.
Lisa Capper, Head of Achievements Team at the Skills for life Strategy Unit was the first speaker. She emphasised the importance of Skills for Life in relation to productivity and economic growth. Lisa talked of how 80% of new jobs created between 2000 – 2010 are likely to be at Level 3 or Level 4.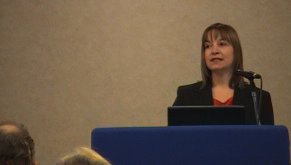 She also reviewed current initiatives that the Strategy Unit are successfully implementing including the Skills for Life Quality Initiative, the Embedded Materials Project, the Whole Organisation Approach Pathfinders, the convergence of Key Skills and Basic Skills, Dual qualifications and Maths4Life. As part of her presentation, Lisa raised three important points:
1. There should be no 'wrong door' models and that brokers should recognise Skills for Life as a business solution and 'sell' it accordingly.
2. All workplace/work-based learning programmes should have literacy, numeracy and/or language embedded within it.
3. How best can the underlying value of adequate literacy, numeracy and language be marketed?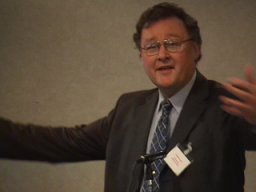 Graham Hoyle, Chief Executive of the Association of Learning Providers spoke of the shift in government policy that he felt had previously misunderstood and downplayed work-based learning, but now recognised its increasing importance via national contracting with the LSC. He felt that, although independent learning providers had achieved much 'invisible success' there were three key barriers to a fuller penetration of Skills for Life in the area of adults in work. These being the challenge of engaging SMEs, the problems of securing LSC funding for small groups of isolated learners and finally the issue that staff training within independent training providers demonstrated major infrastructure problems and that there should be a means of accrediting the experience of current practitioners as an alternative to the current benchmarking system.
Also speaking on day one were Philip de Montmorency, London Development Agency who spoke alongside Hannes De Bruin, London Borough of Waltham Forest about embedding basic skills in local authorities. The final speaker on Day 1 was Helen Casey who updated delegates about current research being conducted by the NRDC.
There were a wide variety of workshops to choose from over both days. These included: Researching the impact of Skills for Life on learners, The Provider Toolkit, ESOL in the workplace, BBC Skillswise, Webwise and Cashwise in the workplace, a sectoral perspective of embedding Skills for Life, Union perspectives and the role of the Union Learning perspective, the Employers' Organisation for Local Government's approach to Skills for Life, Creating a learning culture in the transport industry, Passport to learning, Latest findings from the Adult Basic Skills and Workplace Learning Project, Skills for Life and Health and Careers in pop culture through basic skills.
The workshop sessions proved to be particularly popular with the delegates and this will be reflected in the next annual conference. This will be done by reducing the number of speakers and instead, providing a greater allocation of time for workshops therefore enabling delegates to attend a greater number of workshops for a greater length of time.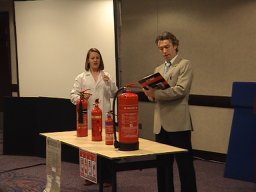 A very full and exhaustive day was completed by a short play by the Menagerie Theatre Company entitled 'Red is Water' which highlighted workplace basic skills issues through both comedy and music.
On day two Nic Brown, Inspection Manager for the Adult Learning Inspectorate offered a brief synopsis of the ALI Chief Inspector's Annual Report 2003 – 04 in relation to workplace/work based learning. He highlighted that there was an improving picture of work based learning with inadequacy rates falling from 60% to 34% over two years and was still falling. However, despite major progress being made in terms of good retention, flexible and quality delivery and the extensive links being developed between providers and employers, he did feel that there was still scope for improvements in other areas. He felt that planning of learning on the whole remained weak while the use of assessment in some cases was unsatisfactory as were the induction processes currently being implemented. Linked to these weaknesses is that there are insufficient staff with the appropriate experience or qualifications. Nic went on to point out that one of the main factors influencing employers was how much they appreciated those training providers that had a good understanding of their sector.
Barbara Bicknell, Head of Basic Skills & Access to Learning at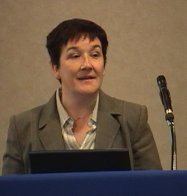 the South East England Development Agency outlined the role of RDAs and in particular the key reasons why they needed to be at the heart of the Skills for Life agenda. These being economic development, community improvement, business benefits, individual development and workforce development. Barbara added that Skills for Life was now an integral part of the 21st Century Skills strategy and that RDAs will continue to support those who develop or deliver programmes in the workplace. SEEDA is developing a shared framework for action with partners to utilise the full potential of joint funding opportunities. As a measurement of the success of SEEDA's workforce development strategy, 12,854 workers in the South East have undertaken basic skills learning in their workplace and this figure is rising.
Tony Nelson, Director of Skills and Workforce Development, LSC London Central outlined the scale of the challenge facing the London LSCs. Currently 330,000 SMEs employ 3.2 million people while 200,000 of these SMEs have no training plans. Additionally, 700,000 Londoners have no qualifications at all and 23% have real needs in basic literacy and numeracy. Tony summarised the strategy being developed to address the challenges facing the LSCs. All 5 London LSCs will develop a strategic and consistent approach to meet the needs of SMEs in particular. They will also contract to spend £10.3 million over two years on the development of an 'Integrated Skills Brokerage' process that will cover the development of the organisation, leadership and the workforce.
The event was sponsored by Association of Learning Providers, learndirect, NHSU, SEEDA, OCNW, CSET and LSCs London Central and London South. The conference was closed by Eddie Little, who thanked the sponsors without whom the overall event would not have been successful.