Basic Skills Learner Awards 2004
Bridgewater Hall, Manchester, Thursday 20th May 2004

Adult learners from the Greater Manchester area collected awards for outstanding achievements in literacy, numeracy and language from television presenter Gordon Burns at an awards ceremony held at the Bridgewater Hall.
The winners who have been undertaking basic skills learning, received a £50 book token and a framed certificate to mark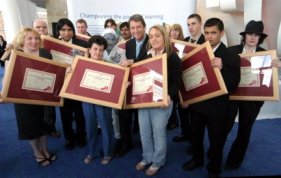 their achievements. All those who nominated winners were also eligible for the Good Practice Award. This Award went to City College Manchester for their work with HMP Manchester. The event, which was hosted by the Learning and Skills Council Greater Manchester), was organised by The Network (then known as the Workplace Basic Skills Network) as part of Adult Learners' Week.
"Training and skills are the key to furthering individuals' employment prospects and for business prosperity generally," said Anthony Goldstone, Chairman of LSC Greater Manchester. Speaking of the winners, Anthony went on to say: "These people have shown that through dedication and hard work it is possible for adults to give themselves another chance. Their achievement is magnificent."
When making the presentations to the winners, Gordon Burns said: "It is vital that achievers in these fields are recognised in this way and I am proud to present these prestigious awards." The Awards, which recognised the difference people have made to their lives through learning, were a huge success.

See more photos from the awards.