The Network's 6th Annual Conference
'Working with Employers'
The success of any workplace basic skills learning scheme is heavily dependent on the role played by employers. This was the overwhelming message from delegates attending the annual conference of The Network (then known as the Workplace Basic Skills Network).
The Network's 6th Annual Conference, 'Working with Employers' was held in Milton Keynes and was attended by over 160 delegates who explored ways in which employers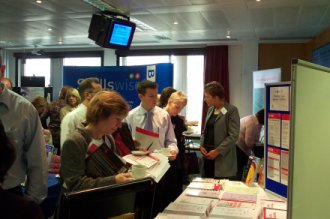 are able to play a part in improving the literacy and numeracy levels of the British workforce. It featured a range of presentations, workshops, display materials, small group discussions, panel questions and a play, to stimulate and engage delegates' interest around the theme of 'Working with Employers'.
The conference brought together a wide range of stakeholders in the field of basic skills. Participants considered the different approaches to working with small, large, public and private organisations, as well as innovative strategies and partnerships that have contributed towards creating a diverse range of basic skills training solutions to meet the needs of different employers. However, delegates did emphasise the importance of getting employers on board in learning schemes. They were particularly keen on getting greater involvement from small and medium sized businesses in basic skills programmes.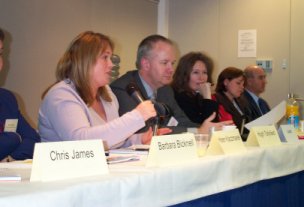 Among the speakers was Hugh Tollyfield, Deputy Director of the DfES's Skills for Success project. He is currently responsible for developing and implementing the employer and employee focused elements of the government's Skills Strategy. His presentation covered a range of government initiatives to promote workplace basic skills. The overall response from delegates regarding Hugh Tollyfield's presentation was that it was excellent to hear confirmation of the Government's commitment to putting employers and employees on the centre stage and to see the vision for the future.
Other keynote speakers came from the conference's sponsors and included Jane Horton, Head of Skills for Life at Ufi/learndirect and Professor Sir Clive Booth, Deputy Chairman of the South East England Development Agency (SEEDA).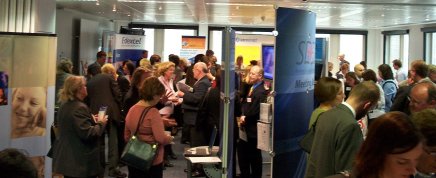 Jane Horton, who leads a team dedicated to building the effectiveness of 'Skills for Life' delivery in learndirect, presented the Ufi strategy for workforce development and the learndirect 'Skills for Life' portfolio.
Sir Clive Booth focussed on working with employers in the SEEDA region, and he challenged delegates to think more about the way they marketed basic skills programmes to employers. Also speaking were Belinda Lee, Senior Policy Adviser with the Sector Skills Development Agency, Helen Munro from Oxfordshire & Radcliffe NHS Hospital Trust and Judith Swift of TUC Learning Services.
There were also a number of workshops led by practitioners, training providers, employers, union and sector skills council representatives, local, regional and national funders and policy makers. The workshops provided information as well as discussion opportunities on a range of topics that encompassed the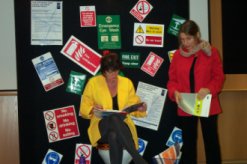 theme of the conference. Workshops included sessions on "Working with Employers in an ETP region" "Working with NTO's" and "Using Basic Skills Training to Multi-Skill the workforce in a Private Sector Company", and all were well received.
At the end of an intensive first day, a short play performed by Jacky Bonney and Charlotte Moncrieff, highlighting basic skills issues entitled 'No Problem ?', was performed twice for delegates. Only 15 minutes long, it used humour and music to show possible situations that could occur at work due to difficulties with basic skills, and their potentially disastrous consequences.
Day two of the conference also featured a roundtable plenary which enabled
delegates to put a series of questions on workplace basic skills issues to an invited panel. Panel members included Barbara Bicknell, Learning and Skills Manager of SEEDA, Chris James, Chief Executive of CINTO, Sarah Blackmore from the Basic Skills Agency, Helen Kaczmarek from ABSSU and Phil Wilkinson, Chief Executive of OCNW.
Overall the conference was felt to be the biggest and best yet: which raises high expectations for 2004.